You must have enjoyed this refreshing salad countless times.
You frequently have to make a snap decision when the waiter starts detailing the various salads on the menu. But have you ever pondered the origin of the word "Shopska salad"?
WHERE DOES THE NAME COME FROM?
There is definitely room for disagreement regarding the precise origin of Shopska salad.
It was certainly named after the Shopi, a group of people that inhabited the Shopluk region close to Sofia, the capital of Bulgaria. Some think that this is the reason why Shopska salad is a Bulgarian dish.
But things don't stop there.
The colours of the ingredients mirror the colours of the Bulgarian flag, which is another piece of evidence that this salad is Bulgarian, but the people in southeast Serbia would disagree. So, let's get to the historical observations. Our renowned ethnologist and geographer Jovan Cvijić argued that the Shopluk region encompassed not only eastern North Macedonia but also western Bulgaria and south-eastern Serbia (specifically Dimitrovgrad and Bosilegrad).
In any case, Shopska salad is a mainstay of Balkan cuisine and is also common in Czech and even Polish cuisine.
When it was chosen as the most well-liked meal in the _Tastes of Europe_ initiative in 2014, it was further evidence that it is a favourite among cold salads.
SERBIAN OR SHOPSKA SALAD?
It's possible that at first, you can't tell the difference between these two salads, which is understandable given that the only ingredient that differs is cheese. For example, whereas shredded white cheese is not used in the Serbian salad, it is in the Shopska salad.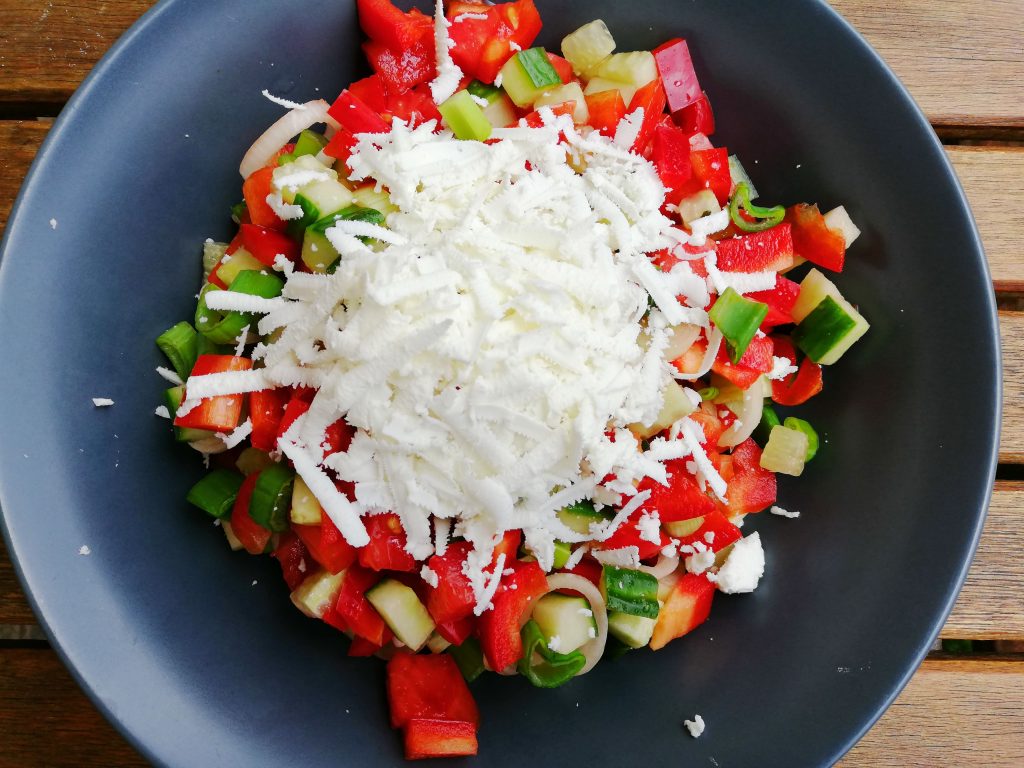 The Shopska recipe is quite straightforward. In addition to the already mentioned cheese, other ingredients include tomatoes, cucumbers, fresh or roasted peppers, (depending on the region), and onions. Add parsley, season everything to taste with salt, and then drizzle oil and vinegar over the top. And that's it!
Some housewives also include hot pepper; however, this again depends on taste, and regional variations can be found in the specifics of the recipe. However, the fact that this salad pairs well with all grilled meats is universal.
BARBECUE AND SHOPSKA SALAD
Salad is a must with any grilled meat. It is unthinkable otherwise.
Where can you find all of these exquisite aromas? Of course, at Walter's.
No matter what you opt for – our legendary ćevapi, burgers, sudžukice (beef barbecue sausages), ražnjići (meat chops on thread onto skewers), spicy uštipci, or one of our other specialties – don't forget to order a serving of your preferred salad. Whether Shopska or any other variety!
In Belgrade, Novi Sad, and Zrenjanin, as well as everywhere else, we're welcoming you to come on in!
Welcome!
Your Walter