BLEND OF TRADITIONAL FOOD AND MODERN AMBIENCE
We strive to provide our guests with a genuine taste of tradition that has been skilfully and passionately prepared in a setting and atmosphere for each occasion so that you will always feel welcome with us. Walter welcomes you with hospitality at the door and gourmet food at the table.
Restaurant locations
WALTER ĆEVAPI 5/10 PIECES
Ćevapi made from ground beef according to a special recipe 125/250g, served in ½ home-made flatbread 150g
SPICY UŠTIPCI SERVED WITH KAYMAK
Veal meat seasoned with onions, garlic and hot pepper 250g, with kaymak 70g
VEAL BROTH
Walter homemade broth made from the best quality veal
WALTER BREAKFAST
Two eggs, two beef ćevapi 50g, sudžuk 60g, French fries 100g
Urmašica
A treat made by a traditional recipe.
BECOME PART OF
THE WALTER TEAM
Walter is a leading company in the field of hospitality.
We have been operating since 2004. From year to year, we expand and develop our business. We are able to provide good working conditions for our employees.
DID YOU KNOW WALTER HAS ITS OWN DELIVERY SERVICE?
Walter offers a free door-to-door delivery service. You can request free delivery from our restaurants anywhere in Belgrade, Novi Sad, and Zrenjanin. Also, you can order a takeaway or pick the order yourself in our restaurants.
of charge Order free by calling the Walter call centre at 063 101 1000, or through our website and mobile app (available for Android and Apple devices).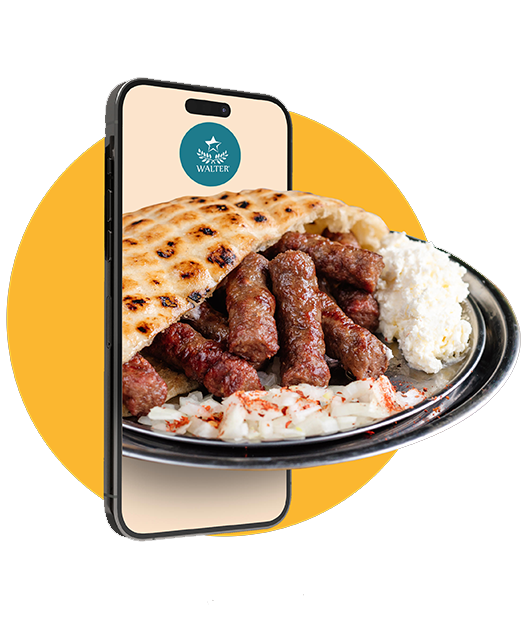 Newsletter
Be the first to know about all the news from Walter.
By registering your e-mail address, you agree to data processing and confirm that you are over 16 years old.